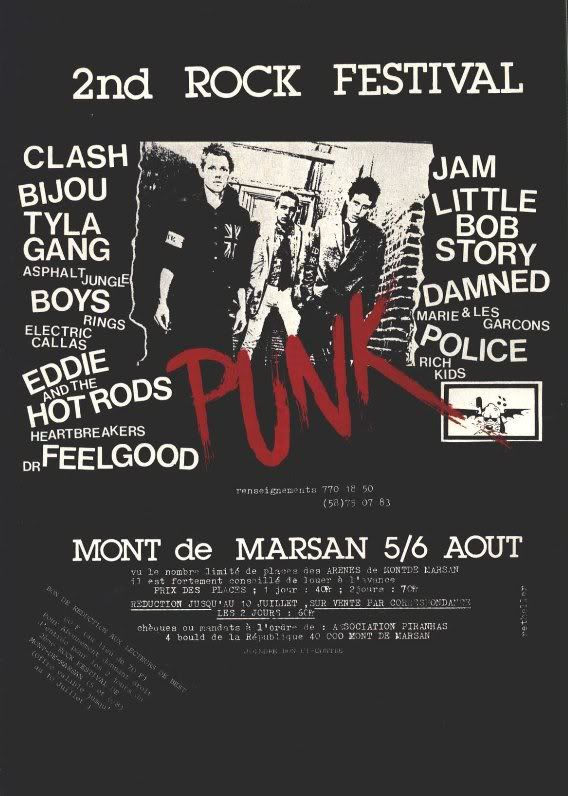 Where Are The MANIACS ?
A MARC ZERMATI




... MdM '77 : Beaucoup en parlent
... CERTAINS Y ETAIENT !
Fallait qu'ça tombe sur moi. D'un autre côté, Christophe l'Epingle n'avait pas vraiment le choix : on n'est plus très nombreux les rescapés maintenant. Peut-être 2 à 3000 présents dans les arènes en ces vacances d'été, dont un tiers de vraiment concernés...... Mélangés entre autres curieux et touristes égarés dans l'attraction landaise de l'été et 32 ans de ravages de la dope chez les Parisiens et l'alcool chez les ploucs (ou l'inverse si vous voulez), plus grand monde pour évoquer le Graal de tous les Punks : MONT DE MARSAN 77. Vous me direz, y'en a eu d'autres des Graals pour les épinglés : le 100 CLUB ou le VORTEX, j'ai fait aussi, mais en janvier78, vous imaginez, le barnum était remballé.

MDM77 donc, j'vais pas vous mentir, j'me souviens pas de tout: j'ai relu ce qui était révisionnable et pas trop révisioniste. Et finalement, mes souvenirs, et les commentaires de l'époque, enfin, les "sérieux", pas ceux des envoyés spéciaux de Closer (pas celui du Havre, ni de Manchester) et autres Gala, lancés tel une meute effrayante dans la France giscardienne de 1977 (les jeunes, vous ne pouvez pas vous imaginer).
It's falling on Me. Sure, No choice for Christophe l'Epingle : the survivors are less & less now. 2 or 3 thousands present in the bull ring on summer holidays, but only a third with regard to punk attitude. Take off tourists and observers in this south of France attraction, 32 years after, with Parisians dope destructions and too much alcohol for the donkeys (the opposite if you want), that's the reality. Today, nearly No One to speak about the graal Punk movement : MONT DE MARSAN 77.
Of course, you cast back about the others graal places pinhead addicts : 1 Hundred Club, RoXy or Vortex... I was in too, but from january 78, Barnum Circus was over.
Mdm 77... ok... I don't wanna lie : I don't remember everything. I'd re-read that it's possible and not with a slice-bar profile. In final appreciation, my surrendings are not far like the 77 journalistic comments... hum... hum... the serious papers, not the pink Closer 'newpapers' (unfortunately I don't speak about the fantastic Le Havre famous label, and, of course, about Manchester), like Gala, plunging into a typical and frightful punk hunting in the poor 77 Giscard France atmosphere (young guys, you can't imagine it...).
Ok... et Maintenant... une nouvelle version....
Faut dire qu'on leur a donné du grain à moudre à ces Patrick Eudeline du pauvre; non mais la, c'est méchant pour Patrickkkkkkkkkkk!!! eh oui, 15 ans avant l'imposture Bruel.
Mais je m'éloigne du sujet (Pat je reviens à toi tout à l'heure pour les choses sérieuses car l'important pour eux, c'était de traquer la moindre de nos pitreries pour les livrer à leurs ilotes entre 2 méduses et l'arrivée du Tour de France. (Hé, ils sont arrivés, en août, les pharmaciens ambulants)
Exemples:
- l'oreille percée à vif par l'épingle à nourrice dans les vespasiennes municipales, on a fait, enfin moi, car Kelly et la Rachel étaient au bord de l'évanouissement;
- la caisse taguée Anarchy in Mont de Marsan, on a fait! on nous voit dailleurs dans le reportage que l'Epingle a du mettre quelque part sur le site. Regardez, c'est fugitif, le grand sur l'aile, c'est moi et Killer Kelly qui doit jouer du chaterton, à genoux (après aussi, pour d'autres raisons: too drunk to funk qu'y joue aujourd'hui les JOE SENT ME, ça m'érite.
- Les "festivaliers" expulsés du camping municipal la veille du début des opérations avec du coup le parcage collectif dans un champs à la limite de la cité, pas désagréable dailleurs, vu le peu de temps passé dans l'enclos (et oui, pas de place dans les hotels réquisionnés pas l'occupants british). De toute façon, essayez de récupérer 2 ou 3 heures de sommeil là où cartonnent des Damned, j'y crois pas!!!
Car les Damned, ils les ont fait courir les localiers bardés de leur Pentax tels des japs qui se démènent, pour essayer d'immortaliser les provocations de Rat Scabies et de sa horde dans les rues autour des arènes, en nous traitant de "shitty punk", Killer s'en souvient. Pas de quoi casser deux pattes à un canard comme on dit cheu nous en Normandie, eh on faisait partie des ploucs!
Des ploucs évolués certes, on avait déjà le groupe fin 76; des premières variétés pontaudemerius plus connues sous le nom de ACTION JOE. Y parait qui y'en a d'autres des Social Bastards, mais avec un nom pareil, y doivent émarger chez le facteur.

Hey!!! on parle de 1977 là! On parle de Patriiiiiiiiiiick!!!
Yeap! Faut pas oublier ceci : il a toujours existé une étrange atmosphère du côté de Pont-Audemer, et quand le Punk a débarqué, on était prêt. Lui, Killer Kelly, lui, La Rachel, et Christophe, l'Epingle, tous du même endroit, ou presque, j'en suis sûr.
Qui est l'Epingle ? Qu'est-ce qu'il fait là ? Etait-il à Mont-de-Marsan ?
Hum, c'est lui qui écrit le blog, qui met les photos et les textes qui vont bien, mais il n'était pas à Mont-de-Marsan. Merci pour la bonne question. Hey.. "t'étais où en août 77 ? tu m'as jamais dit".

Et Patriiiiiiiiiick ? Dans un p'tit moment si tu veux, pas la peine d'appeler les urgences, j'vais m'en occuper tout de suite.


Ils veulent savoir. J'vais raconter l'histoire maintenant. Hey Killer, on leur dit ? C'est le moment. Quoi encore ?
Ah oui... l'Epingle y vivait à Londres envoyé par sa boite à curetons. Pas le choix pour lui. Londres77... autant envoyer un agneau dans la maison du loup. Anus dei priez pour lui. Londres est trop loin maintenant pour sauver son âme, autant aller à Lourdes, ça revient au même. Tout est terminé maintenant, on garde ça profond au fond de nos mémoires, pas de quoi écrire un roman. Plus vraiment d'actualité... quoique... ce qui se passait à Londres en 77, ça peut être intéressant.
It's true, life was not easy for these plain Patrick Eudeline specimen. Ho nooooooo ! I'm not objective with Patrick... 15 years before the Bruel swindle.
But, I'm getting out of the main way (Pat, I go back to you in a few moments for serious subjects), 'cause the subject for them was to talk about our fooleries with the intention to offer this kind of strange attitudes to the readers, between the jelly-fishes stranded and Tour de France arrival (in august time, no problem, itinerant druggists are in the right place).
Some samples ?
- Pierced ear in public lavatories with the safety pin - Yes, We Can ! Hum... just me, 'cause Rachel and Killer Kelly were near the definitive breakdown.
- On video on the top, white Anarchy in Mont de Marsan a car tagged - Yes, We Can ! Lock at it, it's fast, big size seated on the hood, it's me with Killer Kelly on his knees, playing with adhesive tape, I suppose (after, he remains in the same position for another reason : Joe Sent Me are playing today Too Drunk To Fuck, I'm not surprising at you).
- The music festival participants eviction from the municipal camping a day before the first play - Yes, We Can ! The result is a massive folding of punks in a field (like sheeps) out of the city (a sort of Woodstock revisited). In definitive, it was not a source of annoyance 'cause we were in just for 2 or 3 hours a night to sleep. No free place in downtown hotels impressed by the British invaders. It was a good situation : try to recover near the Damned were pitch their camp.... Thanks to No One !
Sure, like a speedy Japanese (call forth in Olivensteins' famous song 'Fier de ne Rien Faire') with a Pentax Box on his belly, it was a real endless party for Mont de Marsan local population. Rat's provocations are not easy to immortalize, except if you hear 'shitty punk' near the arena area. We hear, Killer Kelly still remember it.
It don't break two legs for the duck as we can hear in our deep Normandy, at home. Dicky we are, dickies we stay.
Advanced rather silly indeed, 'cause since the end of 76, we have a band. It's the first Punkus PontAudemerius specimen know to them as Action Joe name. It seems other formations had appeared since these early times. Social Bastards for example. Owner of this kind' name, they bring back money from their postman, I suppose.


Hey !!!! We talk about Mont de Marsan 77 .... We talk about Patriiiiiiiiiiiiick ....
Yeap ! I don't forget it, but it existing a strange flair in Pont-Audemer where punk spirit broadened into a grin. Him, Killer Kelly, Him La Rachel, Me and Christophe l'Epingle all from this place, I'm almost certain of it.
Who is the Pin ? What is he doing here ? Was he in Mdm ?
Hum... he's this blog writer : videos and photos are in the right place but he wasn't in Mdm77. Thank for this kind of (good) question : where are you in august 77* ? You never tell me.
And... Patriiiiiiiiiiiiick ? In a few moments if you want... No... it's like a 999 call.... I evacuate it now !
They want to know. I must tell the story now. Hey Killer, I relate him it ? Ok... time's up... well, what about it ? what else ?
L'Epingle lived in London, a sick young guy out of its course, a strange rule laying down by his Catholic school. No choice - London 77... like a sheep in the wolf's house.
Anus dei have a prayer for him.
London is too far now to save his soul, with a Lourdes long way round, it comes in the same thing. All is over, and probably, we are keeping in the dark about his true story. No time to write a novel on it 'cause it's not our today only care. Nevertheless, London 77 is an unquestionable ground of our self-interests.